From Caroline Wozniacki playing with rheumatoid arthritis to Grigor Dimitrov's disastrous form slump, we present the most interesting player narratives heading into the 2019 season.
They're not necessarily the top players on tour, but these men and women have the most compelling storylines as the sport prepares to embark on a fresh new season in 2019.
Andy Murray
Roger did it. Novak did it. Will 2019 be Andy's year to light the tennis world on fire with an inspiring comeback? Considering his injury was a hip, it's going to be really tough. Regardless of what happens, a lot of people will be watching intently.
Roger Federer
Djokovic will be dominant. Nadal will clean up on clay. The future for that duo seems fairly predictable. Roger Federer, who turns 38 (!) next season, is the guy with the most question marks. There appear to be some tiny cracks in his armour; he did not go beyond the quarters at any Grand Slam after his Australian Open triumph, and failed to win a Masters 1000 in 2018. They say Father Time is undefeated. Roger Federer has beaten him once. But surely he can't go back-to-back?
2018 SEASON SNAPSHOT: Roger Federer
Serena Williams
She's already the GOAT, but she wants that record. Reaching the final of two of the three Grand Slams she played in 2018 (two from two if you disregard her fourth-round injury withdrawal at Roland Garros), Serena is still stuck at 23 major titles won – one less than Margaret Court's all-time record of 24. After calling time on her season after the US Open, you have to think she is gearing up for one last assault on Grand Slam hardware. A scary proposition for the rest of the WTA; a riveting one for tennis fans everywhere.
Alexander Zverev
People's patience for Alexander Zverev was running out until he won the ATP Finals. But with that huge title, belief is restored that he is indeed the future of men's tennis. But if he continues to come up short in majors, Sascha will quickly go from the future of men's tennis to Grigor Dimitrov 2.0.
Garbine Muguruza
After she won Wimbledon in 2017, two-time Grand Slam champ Garbine Muguruza was the popular prediction to replace Serena as the face of women's tennis. Fast forward 18 months and she's outside the top 10 for the first time in three years, having mostly disappointed in Grand Slams and WTA Premier Mandatory tournaments. Was it a down year that we can just write off? Or were her injuries that she alluded to in Zhuhai worse than she was letting on? Next season should reveal some answers.
RANKINGS: WTA movers and shakers of 2018
Nick Kyrgios
Is there ever a year where Nick Kyrgios is not one of the 10 most interesting players? The polarising Australian started 2018 with a bang but quickly fizzled out to fall outside the top 30. And then John McEnroe added more pressure when he expressed fears Nick would 'run himself out' of tennis: "The difference between Nick and I at the moment is I tried all the time. He doesn't, for whatever reason." The question about Nick may no longer be 'how good can this kid be?', but 'have we seen the best of Nick Kyrgios?' We'll know for sure in 2019.
Caroline Wozniacki
After the WTA Finals, Wozniacki revealed she had been diagnosed with rheumatoid arthritis before the US Open. "When the body has a lot of fluids in it and you swell up, you get tired, you get exhausted, all these things," she said, adding that one morning she couldn't lift her arms above her head. It will be interesting to see how Wozniacki deals with this going forward; she played 23 fewer matches this year compared to 2017, a trend that is likely to continue going forward. There is still hope, though, as the Dane managed to win a quality title in Beijing in October.
Grigor Dimitrov
What the heck happened this year? Dimitrov went from winning the ATP Finals and finishing No.3 in 2017 to almost falling outside the top 20. The Bulgarian had his worst grass-court season in eight years and got even colder after that. He's teamed up with Andre Agassi for 2019 – a move that could help him manage the burden of lofty expectations that apparently continue to plague him.
RANKINGS: ATP movers and shakers of 2018
Daria Kasatkina
Not a household name, but a player who is ticking all the boxes you want a future Grand Slam champ to tick. The Russian has the perfect blend of versatility, power and movement and is disciplined enough to maintain a strong level over long periods of time. Kasatkina reached the quarterfinals or better at nine tournaments this year; highlights included quarterfinals at Wimbledon and Roland Garros and a final at Indian Wells. Don't be surprised if she makes another leap into the top five next year.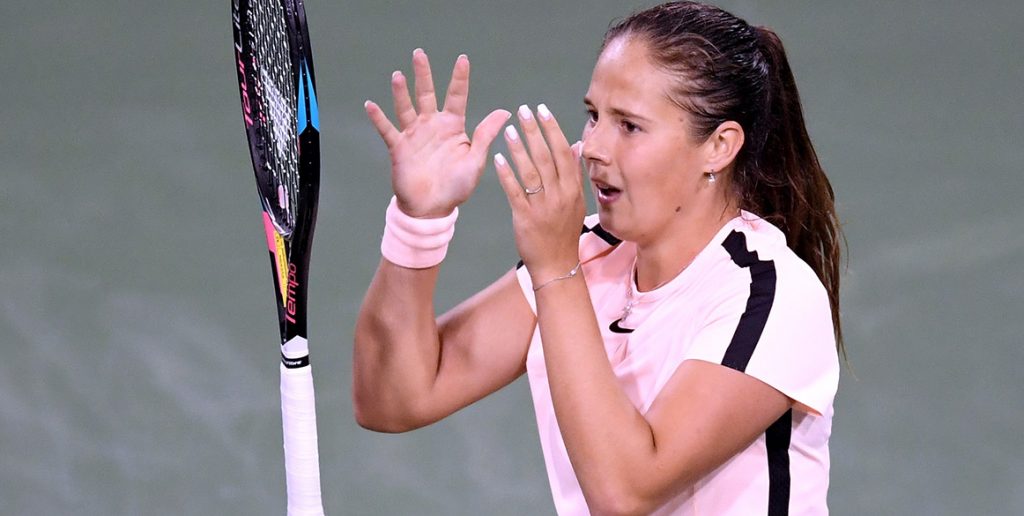 Bernard Tomic
Everyone loves a comeback story. Tomic, who dropped as low as No.243 in May, fought his way back up to No.83 to finish the year and managed to defeat No.13 Fabio Fognini in the final of the Chengdu Open. The Aussie is still young (26) and has proven he has the talent of a top 20 player. If he consistently applies himself, Tomic will continue to work his way up the rankings – a resurgence plenty of people perhaps didn't see coming.