Using 280 characters or less, we preview the upcoming season – which is just a month away – for the top 10 men and women in the game.
Need a preview of season 2019 but short on time? We've got you covered.
ATP preview
1. Novak Djokovic
With Roger and Rafa another year older, and the younger pups still learning what it takes, Nole is PRIMED for a monster year in 2019. Anything less than another two majors and year-end No.1 may be considered disappointing.
2. Rafael Nadal
Rafa: wins another French Open
My brain:
don't say it
don't say it
don't say it
don't say it
don't say it
don't say it
Me: but he can catch Roger?
3. Roger Federer
Two things matter for RF in 2019: 1) Getting to 100 career ATP titles and 2) Praying Novak and Rafa don't win any more Grand Slams. The dude's won 20 Grand Slams and still has two guys who are nipping at his heels. That must be incredibly frustrating.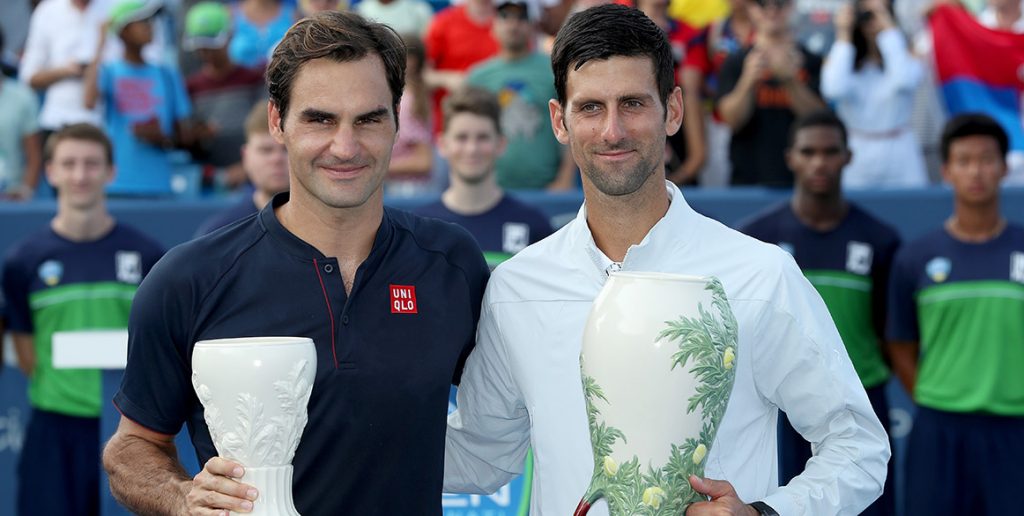 4. Alexander Zverev
Masters 1000 tophies, top-five ranking and ATP Finals champion – the German's career trajectory has been perfect so far. He just really, really, really needs to start showing up at Slams.
SEASON SNAPSHOT: Alexander Zverev in 2018
5. Juan Martin del Potro
Can he stay healthy? If yes, he's a threat to win any major and finish top three. If no, his career might be over.
6. Kevin Anderson
Peaking in his 30s, he reached the US Open final in 2017 and the Wimbledon final in 2018. This year he also debuted at the ATP Finals and cracked the top five. With such steady progress and commitment to improving, he could better that in 2019.
7. Marin Cilic
A very consistent player; since 2014 Cilic has only once finished outside the top 10. Expect him to win a couple of titles, lose to one of the Big Three at a Slam and finish anywhere from No.5-No.8.
8. Dominic Thiem
Thiem is like a vulture waiting for the lion that is Rafael Nadal to finish gorging on the carcass that is the French Open. Was that a little too graphic? Perhaps, but you get the picture.
9. Kei Nishikori
At 28, Nishikori is one of the few inside the top 10 that is more likely to improve on his 2018 season. A genuine smokey to win a Grand Slam.
10. John Isner
Whether it's Dimitrov or Goffin having a comeback year, or a 'Next Gen' guy taking the leap, don't be surprised if Isner drops outside the top 10 next year after a career-best season in 2018.
FEATURE: who's going to be the next new Grand Slam champ?
WTA preview
1. Simona Halep
Halep is at the moment the best female tennis player alive and at 27, there's no reason she won't continue to thrive in 2019. The main hurdles she'll need to clear is the absence of coach Darren Cahill and her back injury.
2. Angelique Kerber
Was 2018 her last elite season? At 30-years-old, considering the wear and tear she puts on her body every match, a decline has to be coming — even if she still competes with the trademark fighting spirit.
3. Caroline Wozniacki
After a career year, Wozniacki revealed she was diagnosed with rheumatoid arthritis in August. Everyone will be watching to see if/how much she struggles with that going forward.
4. Elina Svitolina
Svitolina was borderline cratering before she found some magic in Singapore. Surely she uses that momentum to go deep at an Australian Open tournament that is just as wide open as last year's.
SEASON SNAPSHOT: Elina Svitolina in 2018
5. Naomi Osaka
Not just one of the biggest stars in Japan but slowly becoming everyone's favourite young new star. How will she manage the expectations of thousands of  fans around the world?
2018 season snapshot: Naomi Osaka
6. Sloane Stephens
Sloane is the biggest 'Flip The Switch' player on tour: when she wants to, at any moment, she can just turn it on and be the best player on the court. The trick is staying motivated.
7. Petra Kvitova
Won the most titles of any player on tour in 2018 and looks keen to build on that next year. No reason why she can't.
8. Karolina Pliskova
The Marin Cilic of the WTA: very good, super consistent, loveable and a power player who struggles with defensive baseliners.
9. Kiki Bertens
See Isner, John in our ATP preview. Just swap the words 'Dimitrov or Goffin' to 'Muguruza or Williams'.
10. Daria Kasatkina
A huge candidate to break through at a Grand Slam à la Ostapenko in 2017 or Osaka this year. Watch this space: DashKa is going places.