While defending champion Serena Williams is absent from this Australian Open, a string of highly credentialled players are eager to lift the trophy in 2018.
What are the weapons that will help their title charge? Or the vulnerabilities that may stop them? We break down the strengths and weaknesses of the WTA's top 10.
1. Simona Halep
Strengths: The Romanian defies her short stature to play a firebrand of tennis, which includes scintillating speed and remarkable anticipation. Known for her consistency, the two-time Roland Garros finalist has achieved blistering groundstrokes and a reinvigorated resolve under the guidance of Australian coach Darren Cahill.
Weaknesses: The WTA website doesn't list Halep within the Top 20 of any category concerning serve for 2017 – a remarkable stat given her rise to world No.1. It's a stroke that's slightly floaty and if the second serve in particular had more punch, then Halep could rattle through matches.
2. Caroline Wozniacki
Strengths: The Dane personifies endeavour and consistency. The former world No.1 has hauled herself back up the rankings off the back of a WTA-leading 60 matches wins in 2017. Ruthless in attack and a defensive demon, Wozniacki forces the opponent to earn points. As soon as there is a glimmer of an opening, the 27-year-old targets the corner with a trademark backhand down the line.
Weaknesses: Wozniacki can become preoccupied in battling it out at the baseline in lung-bursting rallies that force her opponents into submission. If she polished up the volleys and transition to the net, Wozniacki could boast a truly complete shot set.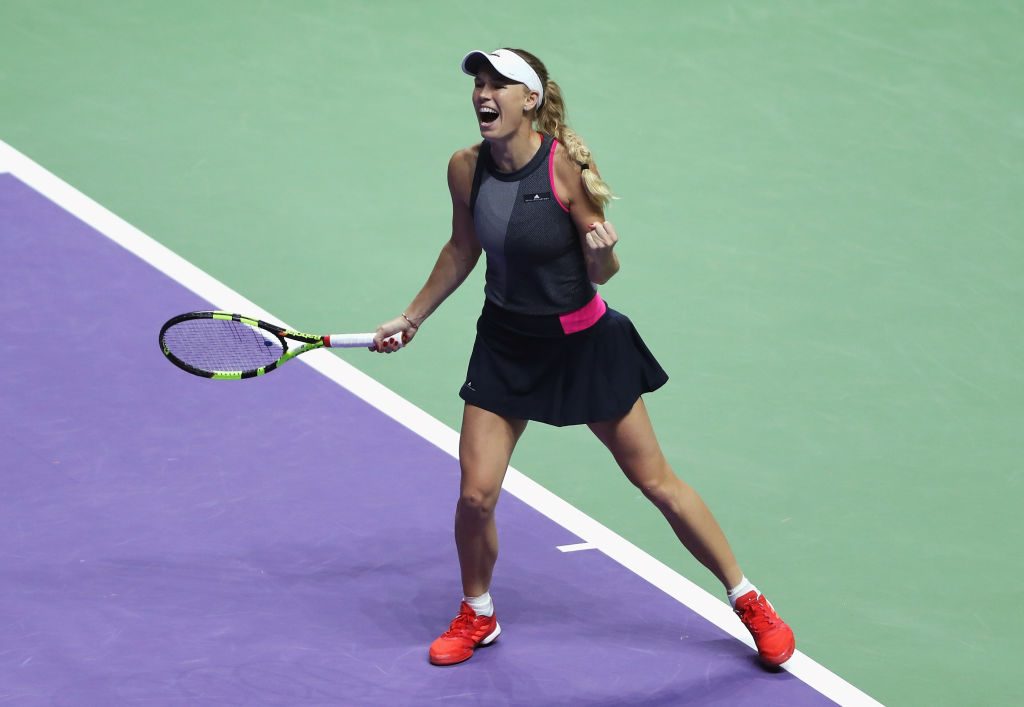 3. Garbine Muguruza
Strengths: A true front runner. Once the Spaniard has the match within her grasp, it can be closed out extremely fast. Her imposing on-court presence is helped by a plethora of powerful shots. The net play has soared in recent campaigns too, but her main weapon is the 24-year-old's big-match mentality. Two Grand Slams in the past two seasons were yielded with final triumphs over Serena (French Open 2016) and Venus (Wimbledon 2017) Williams.
Weaknesses: Like many top players, Muguruza is a perfectionist, but in certain matches this has appeared to engulf her, producing negative body language. If she's winning or with the momentum, then it isn't a problem but opponents can otherwise feed off it.
4. Elina Svitolina
Strengths: The Ukrainian is extremely versatile. She can be a gritty counterpuncher, who absorbs the variety of styles on the WTA, or the aggressor to turn around matches in her favour. The techniques are pretty much flawless and an ability to strike winners from all over the court shouldn't be underestimated.
Weaknesses: Svitolina is rapid and evidently has the stamina to go the longest yards in matches. But on occasion her footwork and positioning appear off kilter and the 23-year-old has to strike off balance or on the run.
5. Venus Williams
Strengths: The renaissance of Venus is simply staggering. It's arguable that her current form displays more power and guile than her youth. The 37-year-old realises that it's an age that requires economy with court coverage and strikes her shots with pure conviction. You could argue all day which is stronger, but the serve and forehand are monstrous weapons.
Weaknesses: If opponents are able to cut the ball low and keep Williams off balance, the American can sometimes be found wanting getting low or sharply changing direction.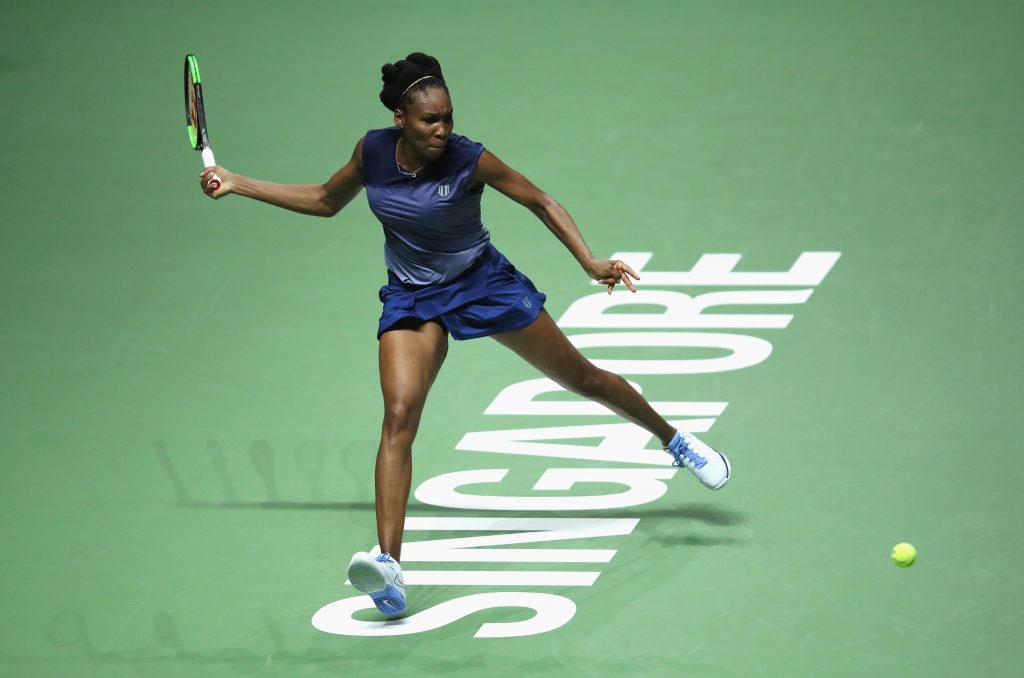 6. Karolina Pliskova
Strengths: The Czech uses the hashtag #AceQueen on social media, which really says it all. The 25-year-old utilised her laser-like serve to top the aces charts for the third consecutive season in 2017. But you'd be mistaken to think Pliskova is 'just' a serve. She can adapt to all surfaces and has a penetrating groundstroke game.
Weaknesses: Pliskova has worked tirelessly to improve her movement and it has definitely gone up a grade or two. Saying that, due to her obvious weapons, this is the area that still needs the greatest shift to earn Grand Slam glory.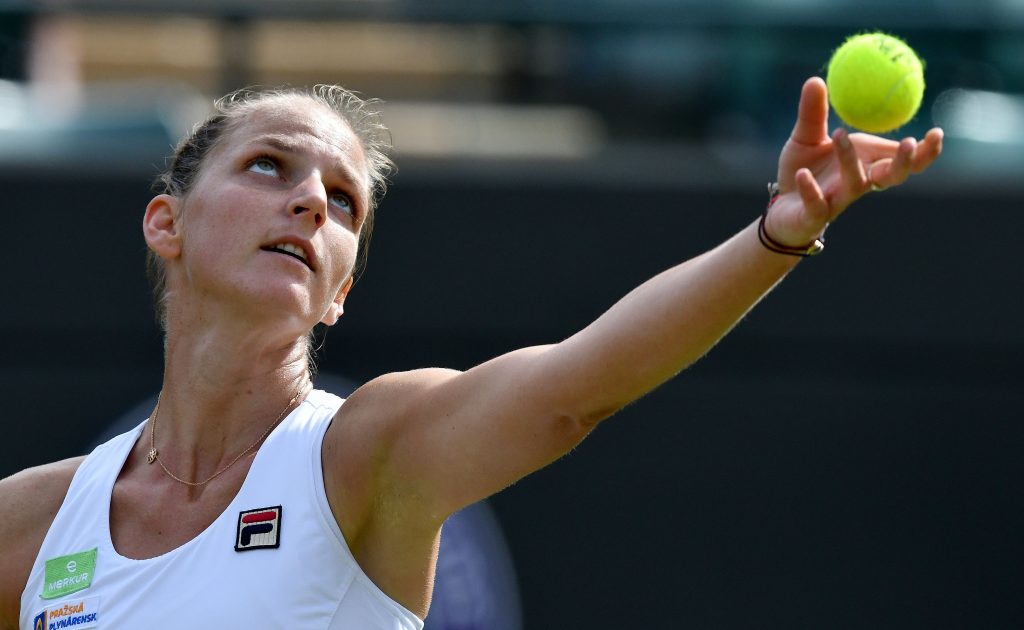 7. Jelena Ostapenko
Strengths: : That the Latvian enjoys the perpetual pursuit of the winner is far from an over-exaggeration – as evidenced by her glorious 2017 Roland Garros title run, the 20-year-old struck 299 winners. Ostapenko's clean, crisp, full-throttle shots from both wings makes her an enthralling watch.
Weaknesses: Too many times when the chips are down Ostapenko is susceptible to sprinkling in a double fault or two. The second serve is quite clunky and lacks fluidity. Also, when the fizzing winners aren't flying in, Ostapenko could really do with some variety and versatility in her game. But only when the heavy-metal tennis isn't on fire. We wouldn't want that to disappear.
RELATED: Who will be 2018's Zverev and Ostapenko? 
8. Caroline Garcia
Strengths: Grand Slam doubles success (she won the  2016 French Open women's doubles with Kristina Mladenovic), has helped the amiable Frenchwoman develop cunning court positioning and full range at the net to complement her sturdy all-round game.
Weaknesses: The 24-year-old said it herself in the latest Australian Tennis Magazine, admitting that "I can get very emotional." Garcia has improved drastically and if the nerves can be quelled, further silverware is almost certainly assured.
9. Johanna Konta
Strengths: The Brit is a fierce competitor and arrives on court helped by her meticulous hours of physical preparation, making the 2017 Wimbledon semifinalist a tricky opponent to break down. Aggressive off both wings, Konta is a very direct player and can also re-direct pace with consummate ease.
Weaknesses: Like Wozniacki, Konta could develop her repertoire at the net, as a few wild volleys ping outside the lines. The 26-year-old has perfect knee bend and gets down low for shots, so she has a game suited to striking piercing approach shots and to then pick off opponents at the net.
10. CoCo Vandeweghe
Strengths: The patriotic American saves her best for the bright lights and big crowds. A ballistic baseline game and cannonball serve clinched semifinals at the Australian Open and US Open in 2017, in a season when Aussie legend Pat Cash joined the coaching set-up to pass on his volley expertise.
Weaknesses: Cash's arrival has seemed to defuse CoCo's temper. The American is a fiery athlete and in the past, has often let her competitive instincts derail her game plan. Players vent in different ways and CoCo will be wise to let the in-match frustrations simmer, rather than boil over.