Which players from the ATP and WTA are set to break out in 2018?
In 2017, Alexander Zverev broke out on the back of two Masters 1000s trophies, while Jelena Ostapenko shocked everyone by winning Roland Garros. With a litany of promising young players coming through in both the ATP and WTA ranks, the breakout candidates for 2018 are aplenty. But showing potential is easy; actually following through on it is a whole other story.
In this edition of SmashTalk, Tennismash staff writers Matt Trollope, Leigh Rogers, Viv Christie and Bede Briscomb list their favourites to be 2018's Zverev and Ostapenko.
RELATED: every country's best shot at a future world No.1 
WTA
Trollope: Naomi Osaka. As revered tennis commentator Bud Collins once said: "you can't hit a serve and forehand that big and not be great." He was at the time referring to Sam Stosur and Sabine Lisicki, but it's a statement that could easily apply to Naomi Osaka. The 20-year-old Japanese phenom has slipped to world No.68 but has all the weapons necessary – a serve in the 190s, booming groundstrokes and explosive athleticism – for success in the women's game. No doubt she will have benefitted plenty from her work with David Taylor, and now she's linked up with Sascha Bajin, who this year helped guide Caroline Wozniacki back up to No.3. She just needs to put it all together. When she does, watch out.
Rogers: Marketa Vondrousova. The 18-year-old Czech has only contested eight WTA main draws so far in her career, yet already boasts one title and a top 20 win. Elbow injuries have slowed the left-hander's momentum in the past two seasons, but if she can stay healthy, the youngest player currently in the world's top 100 should quickly improve her career-high ranking of No.61.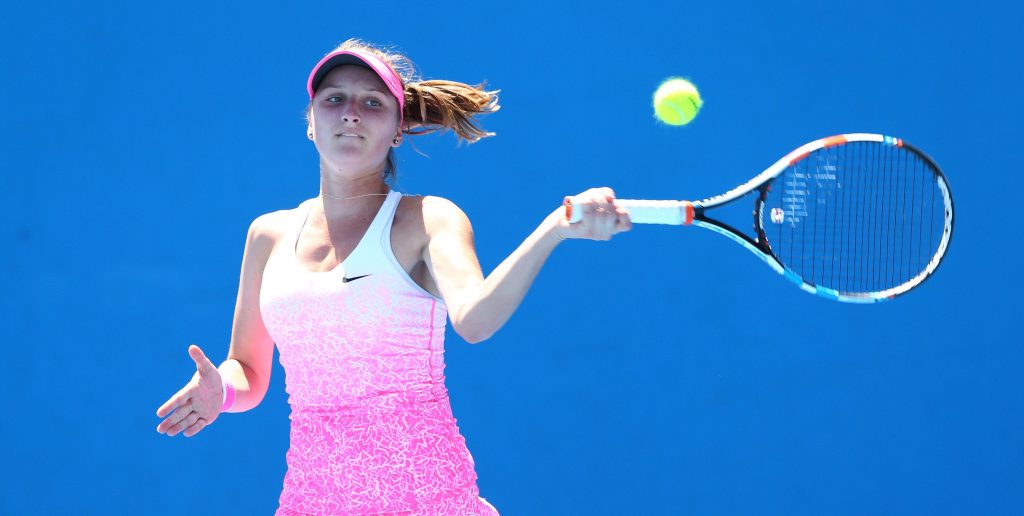 Christie: Sofia Kenin. Sitting just outside the top 100 and brimming with confidence, Sofia Kenin has established herself as a player to watch. Born in Russia but raised in the United States, the 19-year-old made her Grand Slam debut one to remember as she upset Laura Davis and Sachia Vickery before pushing her idol, Maria Sharapova, in a third-round match that was far closer than the 7-5 6-2 suggests. Not quite sure that a surprise Slam is quite within reach for Kenin (known as both Sofia and Sonia) yet; but if there's an opening, the fiercely-competitive teen will grab it with both hands.
Briscomb: Marketa Vondrousova. A year early? Maybe. But this kid's talent is ridiculous. She won her maiden WTA title (against some quality opponents, mind you) this year at 17-years-old, and is not far off from wreaking consistent havoc on tour. I predict a top twenty finish for the Czech phenom and wouldn't be surprised if she makes it to the second week of a Grand Slam, too.
DEBATE: who's better, Prime Novak or Prime Roger?
ATP
Trollope: Hyeon Chung. Chung capped his year with victory at the inaugural ATP Next Gen Finals. Although the event meant nothing in the way of ranking points – it was an exhibition, after all – the result showed just how good the young Korean was against his rising contemporaries. Physically strong and mature with a rock-solid game and balanced, even temperament, Chung was rising speedily in 2016 before injury intervened. Now healthy again, he's making similar inroads in the rankings and with another season of top-flight tennis under his belt he's well positioned to explode in 2018.
Rogers: Andrey Rublev. The 20-year-old Russian enjoyed a breakthrough 2017 season, making his top 40 debut and a first Grand Slam quarterfinal. Those results highlight his talent, yet most impressive is his attitude. He's humble, determined and striving high without a sense of entitlement. These qualities suggest even greater heights beckon – and as he develops physically, his game is only going to get better too.
Christie: Frances Tiafoe. Long touted as a 'next big thing', Frances Tiafoe's electrifying first-round battle with Roger Federer at the US Open highlighted his fearless approach on the game's biggest stages. In pushing the Swiss to five sets, the 19-year-old gained a sense of belonging among the game's elite. A win over Alexander Zverev in Cincinnati marks Tiafoe's biggest career win – finishing 2017 as the third-youngest member of the top 100, you sense those big-name wins are set to become a regular thing.
Briscomb: Denis Shapovalov. The great Rod Laver dubbed him the one to watch, so how could I argue? A Wawrinka-esque backhand, a Rafa-esque intensity, superstar intangibles and a thirst for the big stage — when he puts it all together, Shapo will be near the top.