In the latest SmashDebate, Tennismash staff writers Bede Briscomb and Viv Christie go toe-to-toe over Prime Djokovic and Prime Federer.
Let's say Novak Djokovic and Roger Federer are both in the prime of their careers, and the entire tennis world funds a six-week competition where they have to play each other three times each on clay, grass and hard courts (nine matches in total).
Who wins and why? Let's debate…
SODERLING: Novak would beat Roger 'more times than the opposite'
Briscomb: Novak 5-4 (2 on clay, 1 on grass, 2 on hard)
Before I get the claws out, I'll say this: Federer's prime (2005-11) lasted longer than Djokovic's (2011-15), and he is definitely the greatest of all time.
Roger's ability to consistently rip winning forehands from anywhere, in any position would be enough to win three matches by itself. But Novak would grind and grind and grind. The 12-time Grand Slam champion isn't flashy, just consistent and without weakness. And for as immaculate as Roger's serve was (and still kinda is), Novak's defensive skillset was just that little bit better. To this day I think his ability to put elite servers on the defensive is the greatest weapon any tennis player has ever had.
They usually say a great offensive beats a great defense. While this is true for any one point, it's harder to maintain a great offense over the course of a three-to-four hour slog than the opposite. Throughout these nine matches, Roger would win games and sets more easily; he would come out of the gates faster and he would have more highlights, but the impenetrable wall that was prime Novak Djokovic would outlast everything Roger could throw at him.
What say you, Viv?
Christie: Federer 5-4 (1 on clay, 2 on grass, 2 on hard)
Wow Bede – tough question. Especially on a Monday and in a post-deadline haze. Guess you're not quite feeling the festive spirit yet?
I'm counting Roger's prime as 2004-2009, when he won 14 of 24 Slams, was runner-up at six majors and a semifinalist at three others.
Don't those numbers tell you everything? For the most part, Roger was untouchable.
If there was a weakness, it was on clay (thanks largely to Rafa Nadal's freakish ownership of the surface) but that's balanced by his overall superiority elsewhere.
I'm not disputing Novak's grinding ability is impressive. But look at the stats – 14 Slams over five years is hard to argue. Djokovic has two less over nearly double that period.
How can you argue?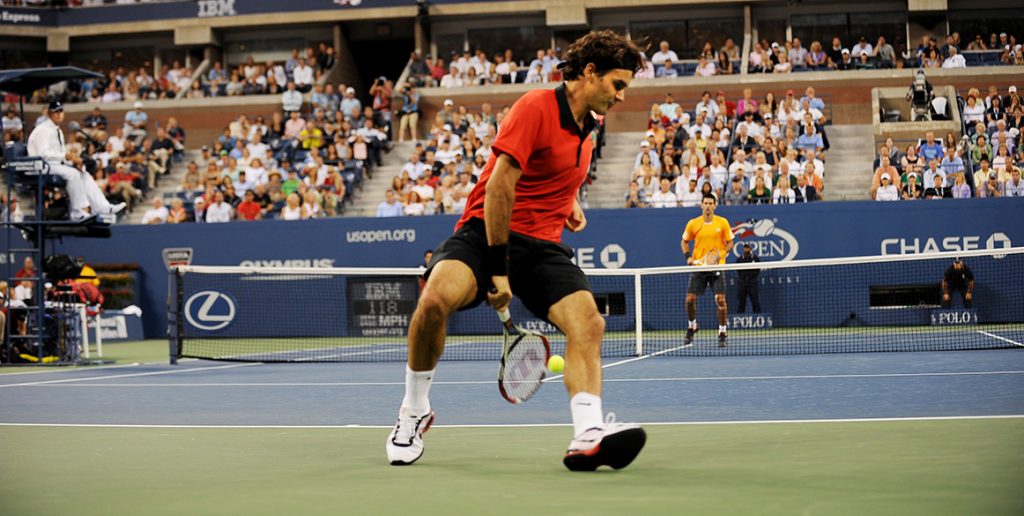 Briscomb:
Oh, you want numbers? Djokovic's head-to-head record vs Federer is 23-22, and four of Roger's wins occurred when Novak was practically a teenager. Novak also has a better record against Nadal and has even done the (virtually) impossible and beaten the Spanish Bull at Roland Garros. What's more, Novak's record in finals against Roger — the big matches, where the lights are the brightest, the stage is the biggest and the pressure is the most intense — is 11-6.
Further, in 2015 Novak faced more top-10 players than Federer ever did in his best years. He won 82% of those matches and guess what? It wasn't even his best year! But here's the crown jewel: in 2005 AND 2006, five of Roger's 23 titles came against a top 3 player. In 2015, seven of Novak's 11 titles came from wins over the top 3. While Roger's numbers look better on the surface, the degree of difficulty of Novak's tells a different story.
Christie:
Bede, it kinda seems like you spent your whole weekend studying the records pages. It'd be fun to get out more?  I, on the other hand, enjoyed a couple of Christmas parties. So, I'm feeling a bit generous …
It's true, I grant you Novak's numbers are impressive. All of those wins against all of those highly-credentialed players. And it's true I (conveniently) overlooked that Djokovic is one of just two players to defeat Nadal at Roland Garros. But that in itself is revelatory. That 2015 win over Rafa in Paris was one of his "off" years. He lost the second and third round of the next two Grand Slams.
There's no question that Novak has been subliminal. But in bursts, not for the sustained periods of the mighty Federer. World No.1 for an incredible 302 weeks (237 of them consecutive) and restored at No.2, within striking distance of that top spot some 13 years later.
You talk of "peak" Djokovic and "peak" Federer. Feels like Novak is past tense; Roger is still very much current.
ICYMI: ranking every 2017 Grand Slam by degree of difficulty 
Briscomb:
Fanfare aside, this debate brings up a larger point about tennis, and one that I touched on earlier: would you rather the offensive genius or the defensive stalwart? Obviously Roger's defensive game was, and still is better than most, and Novak can be very aggressive when he wants to be — but that's the question we're talking about here.
On any given day offense wins, but over the course of nine matches Prime Djokovic's speed, stamina, length and discipline would wear the Maestro down, just as the marathon man did with Nadal at the 2012 Australian Open, Wawrinka at the 2013 Australian Open Murray at the 2012 US Open.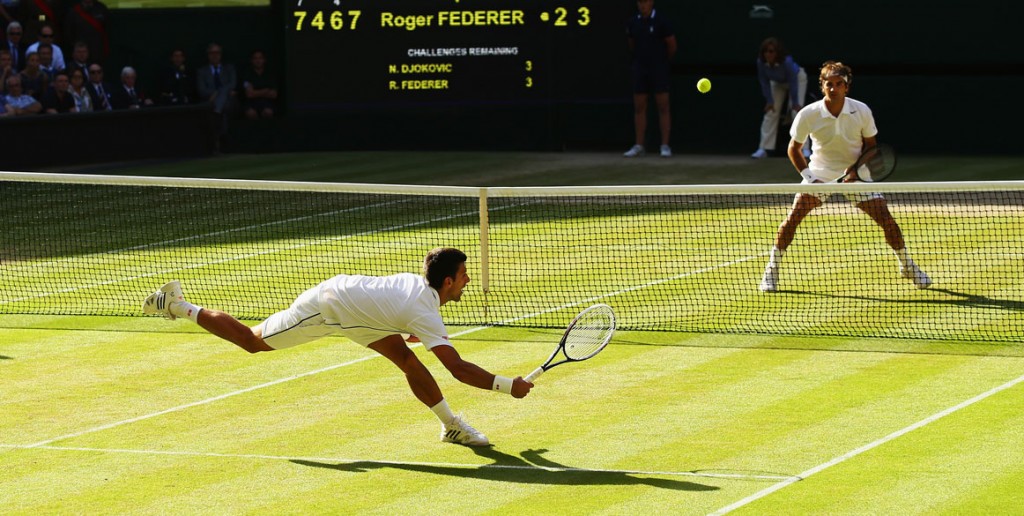 Christie:
Hmmm, we all have our measures, don't we?  And for me, Roger's offensive brilliance is quite simply dazzling.
That's not to say that I'm not impressed by Novak's clutch ability, which would have to be among the best we've ever seen in tennis. And we've seen it over five sets against Federer at a couple of different Grand Slams now, Djokovic winning their 2011 US Open semi in five and matching that result in the final of 2012 Wimbledon.
Those were the glory years for Novak, whereas Roger had dominated for longer stints earlier. It brings us to yet another point in this debate, which is that Prime Federer and Prime Novak are clearly two very different periods. Knowing that, can we simply declare tennis as the winner?