Last week I wrote that tennis needed an event equivalent to the NBA All-Star Weekend or NFL Pro Bowl. A celebration of tennis where all the best players and past legends play each other to form some kind of tennis utopia. Well, the Laver Cup was actually better than that; it had something the aforementioned events have always lacked: the stars really wanted to win.
And so with that fans got some of the most tense matches and memeable moments we've had in a very long time. Lets rank the best 16.
Related: Federer clinches Laver Cup victory for Team Europe
1. Alexander "Kiss the Ring" Zverev
The 20-year-old German took care of business in both of his matches and wasn't shy about letting the opposition know about it. Who said Team Europe was just a bunch of boring latte sippers?
2. #FedalUtd part 1
Roger's half-terrified, half-excited smile as Rafa swats this ball simply must go down in the tennis hall of fame.

3. Team World are the real MVPs
The push ups get me every time. Shout out to the older John Isner and Sam Querrey for holding their own. Also: I didn't think I'd be saying this but Thanasi Kokkinakis shooting and killing Denis Shapovalov with an imaginary arrow is probably in my top 20 tennis moments of 2017. Maybe top 10.
4. The tennis
Is the Laver Cup an exhibition event? If it is it's unlike any I've ever seen. We had the best tennis players in the world competing at their very best. This event meant something to the players, and if you don't believe me just watch this epic final point between Nick Kyrgios and Roger Federer.
5. #FedalUtd part 2
Need a new Facebook cover photo? Laptop desktop background? iPhone home screen? Look no further. 
6. Nick Kyrgios and John McEnroe
If there's a better match made in heaven I don't want to know about it. Throughout the three days McEnroe really seemed to connect with Kyrgios, showing the Aussie tough love, constructive criticism and sharing a mutual affinity for team tennis.
He also, obviously, can relate to Nick's hot on-court temper, and can perhaps teach him to to channel it into consistent Grand Slam production. This is something McEnroe actually suggested earlier this year in France, "The guy that would make the most sense [to coach part-time] on paper would be Nick Kyrgios because we are two head cases, but mentally we are a bit wacky."
7. This photo
For Alexander Zverev, drinking champagne from an over-sized Laver Cup with Rafael Nadal, Roger Federer, Bjorn Borg, Dominic Thiem, Tomas Berdych and  Marin Cilic is not the worst way to have your first drink. And not that it needs pointing out, but Rafa's face, guys. Rafa's face.
8. John McEnroe doing this
New screensaver, anyone? I just love Denis Shapovalov's face when he finally sees what his COACH is doing.
9. John McEnroe saying this
Here's not the hero tennis deserves, but he's the hero we need.
10. #FedalUtd part 3
Earlier this month at the US Open, Rafa said he didn't want to look like he was Roger's boyfriend. Well, Rafael, how then do you explain this?
And this: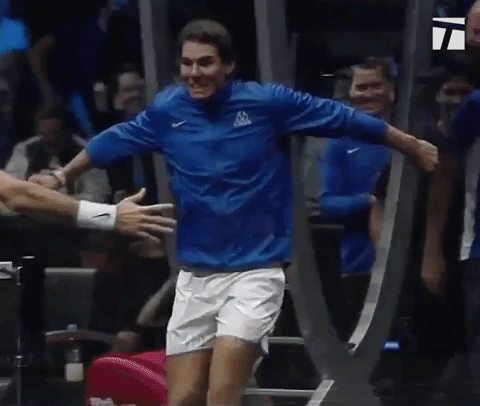 11. The Sascha and Domi bromance
Not only is Alexander Zverev set to dominate the ATP for the best part of a decade, he can also make Dominic Thiem laugh. Impressive. And in case you were wondering, they also have a secret handshake. 
12. Roger Federer the coach
Serious question: did Bjorn Borg say anything this entire weekend? How do we know he's not just a hologram at this point? I mean it's at least a 10% chance, right?
13. Roger and Rafa being soccer mums
 
14. This rally
15. And this rally
Nick Kyrgios gives an apt celebration.
16. And finally, presented without comment: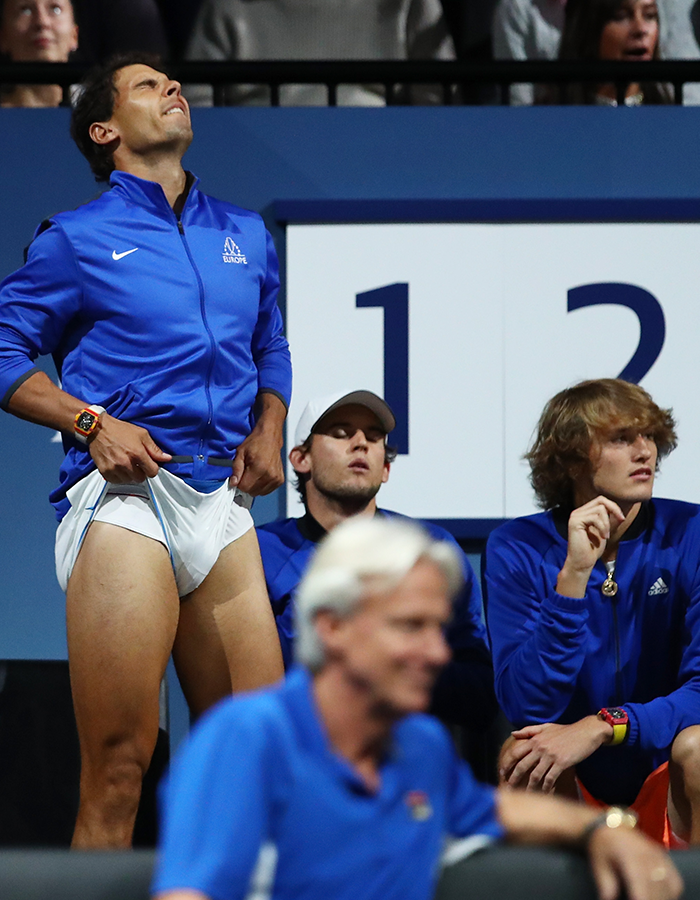 The city of Chicago will host the second edition of the Laver Cup next year. For more information head to lavercup.com.